JANUARY 2021
Rapid Fitness Newsletter
In this month's issue:
Message from Matt
How do I get motivated to workout or diet?

Featured Content
NEW MANUAL: RAPID WORKOUTS

Featured Content
Improving Recovery - Athletes Edition

Exercise Tutorials
Biceps Curls
Triceps Extensions
Bulgarian Split Squats
Clamshells
Leg Press
Leg Press - Feet High
Triceps Dips
Incline Chest Press Machine
Incline DB Chest Press
Russian Twist
Single Arm DB Row
Alternating Reverse Lunge
Deadbug with Plate
Goblet Split Squats
Goblet Squats

New Video Workouts
3 New Virtual Workouts Available!

Recipes of the Month
1 NEW Breakfast
1 NEW Entre
1 NEW Dessert

New Guides/Resources
28 Day Habit Builder PDF
Express Workouts PDF
"Only those who will risk going too far can possibly find out how far one can go"
This month I talk about motivation when getting started at the gym and a different way to approach getting started at the gym. 
There is a new workout manual available! You can find it in the Manuals section! These workouts are built to be finished in 30 minutes and are ready for you to use any day or any time!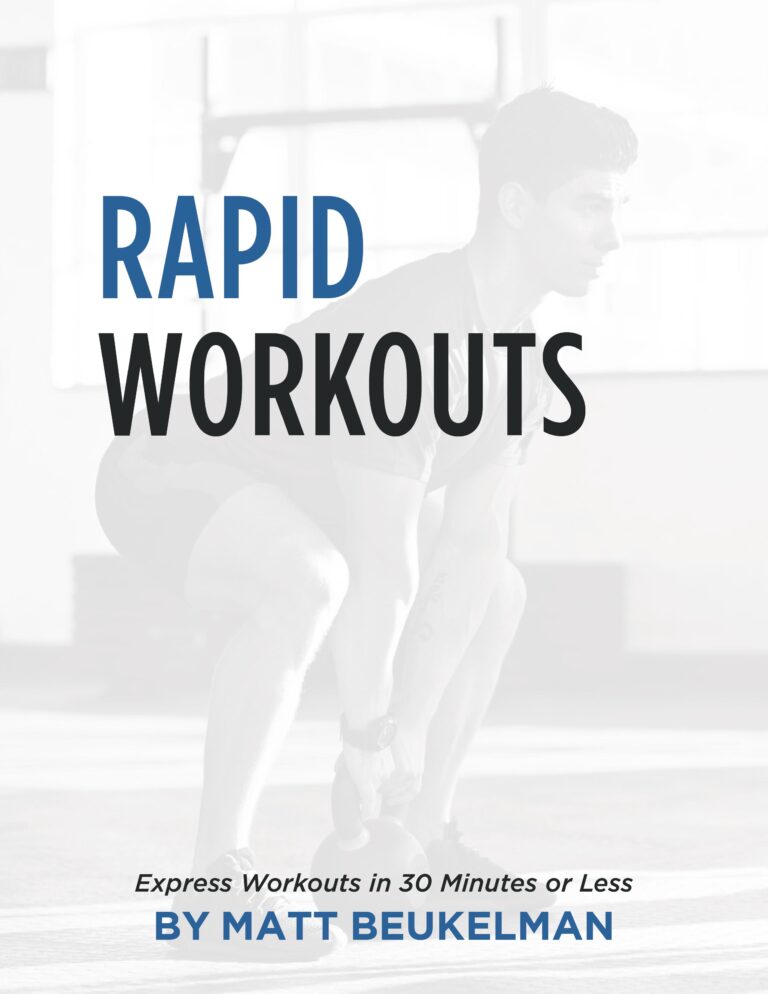 In this video I run through the different things you do control as an athlete and ways you can improve recovery if you are currently struggling. Topics discussed include: Sleep, Hydration, Protein Intake, Carbohydrate Intake, Supplementation that can help. 
High Protein Blueberry Oats
Ingredients:
– 3/4 Cup Oatmeal
– 8 Egg Whites
– 1/2 Scoop Protein Powder(Chocolate)
– 2 tsp Cocoa Powder
– 1/2 tsp Stevia/Splenda
– 1 tbsp Flax Oil
– 1 Cup Blueberries
– 1/4 cup water
Directions:
1. Mix all ingredients(minus the blueberries). 
2. Microwave 2 minutes. Remove and Stir. 
3. Microwave for an additional 1-2 minutes depending on the microwave. 
High Protein Turkey Meatloaf
Ingredients:
– 2 lbs of Ground Turkey
– 1 tsp Olive Oil
– 1 Diced Onion
– 1 tsp Garlic
– 1/3 cup Dried Tomatoes
– 1 Cup Whole Wheat Bread Crumbs
– 1 Whole Egg
– 1/2 Cup of Parsley
– 1/4 Cup Low Fat Parmesan 
– 1/4 Cup Skim Milk
– 1 tsp Oregano
– Salt n Peppa(to taste)
Directions
1. Cook the Onion with Olive Oil separately
2. Mix everything together in a big bowl, add the cooked onions
3. Put the mix in a big baking pan
4. Bake at 375-400 F for about 30 minutes 
High Protein Strawberry Meringues
Ingredients
– 6 Egg Whites
– 1/4 tsp Cream of Tarter
– 2 Cups Sliced Strawberries
– 2 tsp Splenda
– 4 scoops Protein Powder(vanilla/strawberry)
Directions
1. Preheat the oven to 250 degrees F.
2. In a large mixing bowl, beat 6 egg whites and 1/4 tsp of cream of tartar with an electric mixer on medium-high speed, until the egg whites become fluffy and hold stiff peaks.
3. Scoop this mixture out into two large ball-like portions on a baking sheet lined with parchment paper.
4. With the back of a large spoon, depress the middle of each portion to form a pocket (this is where the fruit will go).
5. Bake in the oven until the mixture turns light golden brown, between 5 and 10 minutes. Remove from oven and set aside to let cool.
6. Cut up 2 cups of strawberries and mix in a bowl with Splenda. Add the protein powder to this mixture, 1 scoop at a time, mixing well. Once these dry ingredients are mixed together, add water, 1 tbsp at a time, until the mixture becomes creamy.
7. Pour the strawberry mixture into the meringue pockets, letting it flow over the sides. Serve cool. 
28 Day Habit Builder[PDF]
Express Workouts[PDF]